Truepress Jet520 Advanced Inkjet-Rollendruckmaschine
Globally Recognised World Standard Model
The Truepress Jet520 Advanced can function as a high-quality, high-volume variable data press and as a high-speed on-demand printing system.
Automated Monitoring to Prevent Problems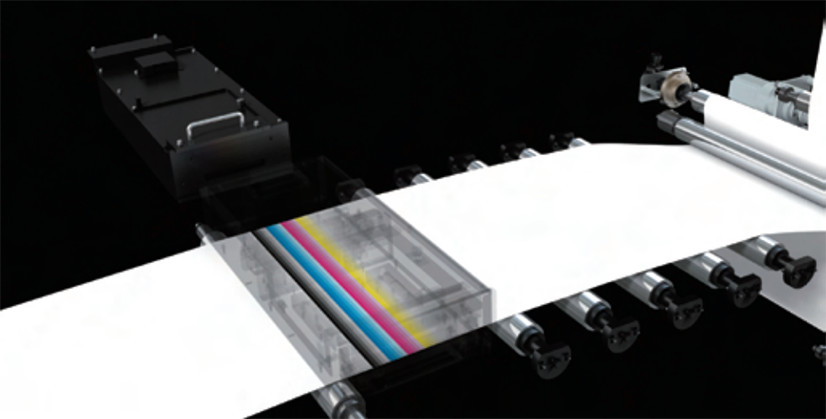 The Truepress Jet520 Advanced print quality monitoring ensures consistent, high-quality results throughout each job as the system prints. Built-in scanning technology reads printed test charts and determines if the inkjet heads need adjustment or cleaning. Any problems are automatically corrected.
Making Operation Easy for Your Pressroom Staff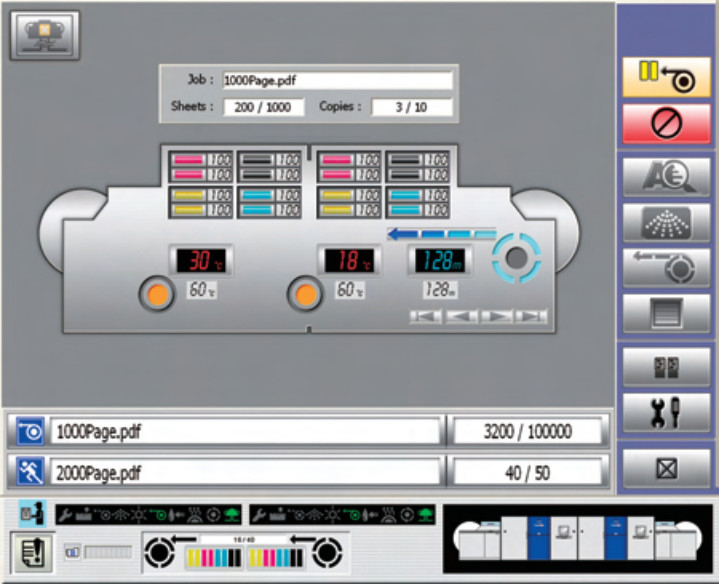 The Truepress Jet520 Advanced touch panel makes operation simple. Even operators with little printing knowledge or experience can be trained quickly. Potentially troublesome colour matching and head cleaning operations are automated. Maintenance is easy and doesn't require extensive downtime.
Scalable Load Balancing that Boosts Productivity
The press comes preinstalled with Screen's powerful Equios workflow solution. Equios features a scalable load balancing function to optimise performance of the Truepress Jet520 Advanced and other connected engines.
Choice of Inks to Suit the Application
Another example of the great flexibility of the Truepress Jet520 Advanced  is the lineup of ink available to match the work details and conditions.
Water-based pigment inks provide outstanding water, heat, chemical and light resistance. They enable long-term storage of documents. They also offer wide-ranging colour reproduction on various applications.
Water-based dye inks offer vivid colouring, with particularly impressive results using intermediate colours. In addition, they are effective at reducing operating costs.
Anwendungen
Akzidenzdruck
Wenn es auf zuverlässige Produktion, Farbtreue und kurze Lieferzeiten für verschiedenste Akzidenzdruckanwendungen in hohen Auflagen ankommt, können die Inkjet-Rollendrucksysteme der Truepress Jet520-Serie von Screen alle Erwartungen Ihrer Kunden erfüllen. Mit flexiblen Systemkonfigurationen und vielseitigen Optionen können Sie die für Ihre...
Publishing
Technologie von Screen eröffnet völlig neue Möglichkeiten für den Einsatz von Continuous-Inkjet-Systemen für den Druck von hochwertigen Publikationen und den Digitaldruck von Büchern. Inkjet-Rollendruckmaschinen von Screen nutzen die Vorteile der Digitaltechnologie und unterstützen den variablen Datendruck und unterschiedliche Bedruckstoffe.
Transaktionsdruck
Die Hochgeschwindigkeits-Inkjet-Druckmaschinen von Screen verändern die Optik und Haptik von Monatsauszügen, Rechnungen, Richtlinien und anderen Dokumenten. Aufmerksamkeitserregende personalisierte Mitteilungen in Verbindung mit hohem Durchsatz erhöhen die Wertschöpfung für jede Kundenkommunikation.
Literatur
Broschüre herunterladen
Bitte machen Sie einige Angaben zu Ihrer Person, bevor Sie die Broschüre für Truepress Jet520 Advanced herunterladen.
Spezifikationen
Dimensions
| | |
| --- | --- |
| mm | Inches |
| 1,768 | 69.7 |
| 1,456 | 57. |
| 2,960 | 116.6 |
| 1,550 | 61.1 |
| 1,456 | 57. |
| 2,075 | 81.7 |
| 1,780 | 70.1 |
Printing method
Piezo single-pass printing, four tones per drop
RIP
EQUIOS
Ink
Water-based pigment inks, water-based dye inks, four process colours (CMYK)
Resolution
360 x 360 dpi, 720 x 360 dpi, 720 x 720 dpi
Printing speed*1
Maximum 128 m (419.94')/min (under Screen's conditions)
Printing width*2
150 to 507 mm (5.90" to 19.96")
Paper width*3
165 to 520 mm (6.50" to 20.47")
Dimensions (W x D x H)
2,960 (116.6") x 1,766 (69.6") [2,075 (81.7") including operation panel] x 1,780 mm (70.1") [printer unit]
Weight
2,400 kg (5,291 lb) [Simplex], 2,500 kg (5,511 lb) [Single Engine Duplex]
Power source
Printer: Three phase 200 to 240 V, 25 A / 380 to 440 V, 15 A
Single phase 200 to 240 V, 15 A
Single phase 100 to 240 V, 2 A