Truepress Jet520 Advanced Inkjet Web Press
Globally Recognised World Standard Model
The Truepress Jet520 Advanced can function as a high-quality, high-volume variable data press and as a high-speed on-demand printing system.
Automated Monitoring to Prevent Problems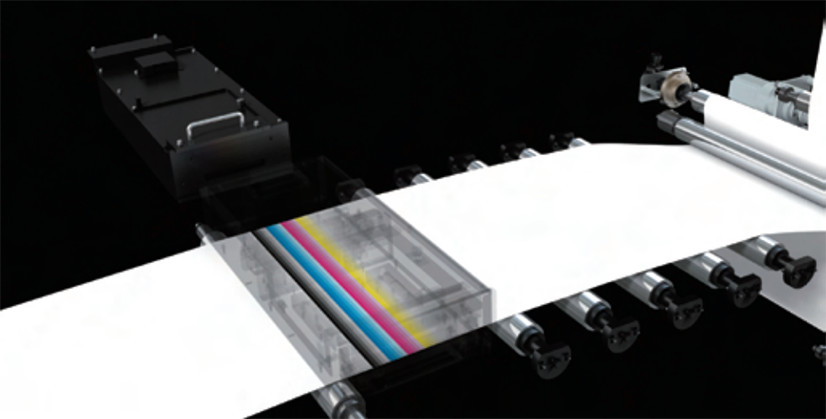 The Truepress Jet520 Advanced print quality monitoring ensures consistent, high-quality results throughout each job as the system prints. Built-in scanning technology reads printed test charts and determines if the inkjet heads need adjustment or cleaning. Any problems are automatically corrected.
Making Operation Easy for Your Pressroom Staff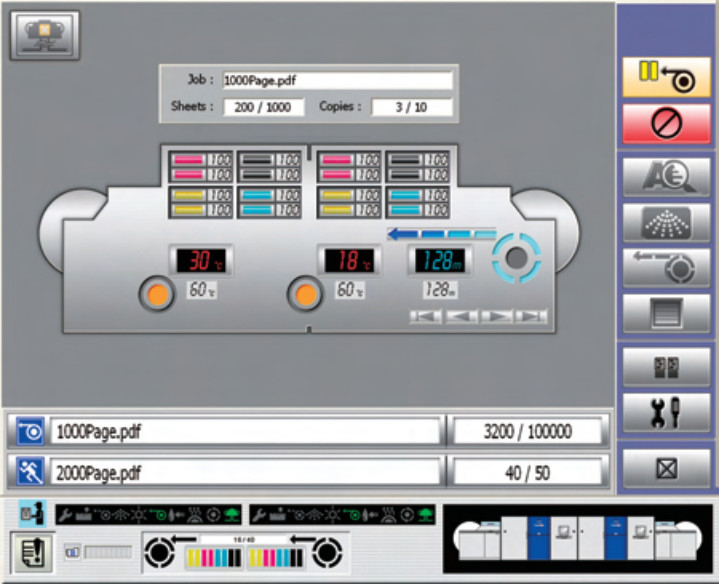 The Truepress Jet520 Advanced touch panel makes operation simple. Even operators with little printing knowledge or experience can be trained quickly. Potentially troublesome colour matching and head cleaning operations are automated. Maintenance is easy and doesn't require extensive downtime.
Scalable Load Balancing that Boosts Productivity
The press comes preinstalled with Screen's powerful Equios workflow solution. Equios features a scalable load balancing function to optimise performance of the Truepress Jet520 Advanced and other connected engines.
Choice of Inks to Suit the Application
Another example of the great flexibility of the Truepress Jet520 Advanced  is the lineup of ink available to match the work details and conditions.
Water-based pigment inks provide outstanding water, heat, chemical and light resistance. They enable long-term storage of documents. They also offer wide-ranging colour reproduction on various applications.
Water-based dye inks offer vivid colouring, with particularly impressive results using intermediate colours. In addition, they are effective at reducing operating costs.
Applications
Commercial
Printing directly onto offset coated stocks opens up a broad market that was previously only suitable for offset. Now you can print jobs like flyers, brochures and catalogues which can be short-run, localized or personalized. Think about the possibilities Beyond Offset!
Publishing
Screen technology creates new opportunities to use continuous-feed inkjet for high-end publications and digital book printing that were previously impossible. Screen inkjet web presses leverage the speed advantages of digital technology while providing opportunities for variable data, full colour and different text stocks.
Transactional
Screen high-speed inkjet presses are changing the look and feel of monthly statements, invoices, policies and other documents. Attention-grabbing colour and targeted messages combine with fast throughput to add value to every customer communication. With our native IPDS controller and JetInspection system, you can guarentee a 100%...
Success Stories
When AccuDoc Solutions felt the pressure for growth, the Morrisville, North Carolina printer that serves the transactional mail and communications needs of health care industry organizations across the U.S., stepped into its future with the purchase of its first piece of Screen equipment. The Truepress Jet520 high-speed production inkjet press has proved to be exactly what the doctor ordered.
---
Literature
Download Brochure
Please provide a little information about yourself before downloading the Truepress Jet520 Advanced brochure.
Specifications
Dimensions
| | |
| --- | --- |
| mm | Inches |
| 1,768 | 69.7 |
| 1,456 | 57. |
| 2,960 | 116.6 |
| 1,550 | 61.1 |
| 1,456 | 57. |
| 2,075 | 81.7 |
| 1,780 | 70.1 |
Printing method
Piezo single-pass printing, four tones per drop
RIP
EQUIOS
Ink
Water-based pigment inks, water-based dye inks, four process colours (CMYK)
Resolution
360 x 360 dpi, 720 x 360 dpi, 720 x 720 dpi
Printing speed*1
Maximum 128 m (419.94')/min (under Screen's conditions)
Printing width*2
150 to 507 mm (5.90" to 19.96")
Paper width*3
165 to 520 mm (6.50" to 20.47")
Dimensions (W x D x H)
2,960 (116.6") x 1,766 (69.6") [2,075 (81.7") including operation panel] x 1,780 mm (70.1") [printer unit]
Weight
2,400 kg (5,291 lb) [Simplex], 2,500 kg (5,511 lb) [Single Engine Duplex]
Power source
Printer: Three phase 200 to 240 V, 25 A / 380 to 440 V, 15 A
Single phase 200 to 240 V, 15 A
Single phase 100 to 240 V, 2 A